A recent study released by the Massachusetts Institute of Technology (MIT) and the Boston Consulting Group, which surveyed more than 4,000 managers from 113 countries, concluded that sustainability is at a tipping point. A majority of survey respondents said sustainability is on their organizations' agenda, and 67% said that sustainability was necessary for being competitive in today's marketplace. This 67% response rate is up 12 percentage points, versus 55% reported in a similar study conducted a year earlier.
Applications within the ARCHIBUS Environmental & Risk Management domain were designed to accomplish two complementary goals: 1) improve environmental sustainability efforts, and 2) reduce risk to the organization.
ARCHIBUS applications that deliver sustainability capabilities to help achieve assessment, planning, and performance management targets include:
ARCHIBUS applications that support risk mitigation to help ensure business continuity and avoid hazards that may result in regulatory and/or legal action include: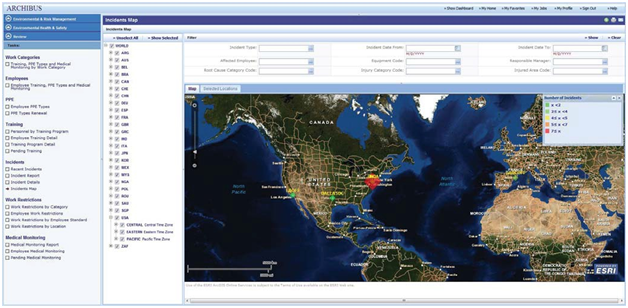 ARCHIBUS Environmental & Risk Management applications provide a structured repository for all relevant data and can display maps or floor plans showing affected locations, with drill-down functionality to view detailed information
These ARCHIBUS Environmental & Risk Management applications provide the informational framework needed to successfully manage sustainability programs as well as mitigate risk among the organization's varied stakeholders, including employees, customers, regulatory agencies, non-governmental organizations, or investors. But more importantly, promoting environmental stewardship while mitigating risk can help improve an organization's brand equity and increase overall stakeholder value.