ARCHIBUS and ESRI Business Partnership:
Merging Facilities and Geographic Data for
Intuitive Business Transformation™
As a Business Partner with industry-leading GIS software company ESRI, ARCHIBUS brings users of both product technologies into a new realm of information integration that unites geospatial with real estate, facilities, and infrastructure data.
Both sets of users will now gain new management insights and enhanced operational decision support through access to a vastly expanded knowledge base using multiple data sources.
That access will be gained through ARCHIBUS Geospatial Extensions for ESRI, the inaugural application from this partnership. ARCHIBUS Geospatial Extensions for ESRI allows ARCHIBUS and ESRI users to access and integrate geospatial and facilities data from each other's databases.
Now users can review 2D and 3D views of their organizations, and merge them with demographic and other database information to better inform strategic and master planning decisions on siting, construction, and management of properties.
ARCHIBUS Geospatial Extensions for ESRI Benefits:
Provides a common operating picture of sites, space, infrastructure and physical assets to improve organizational collaboration and decision-making
Combines real estate, facility, and infrastructure with geospatial information to provide visual representations that improve analysis for competitive advantage
Performs ad hoc, simultaneous queries on both interior and exterior data to visualize an organization's assets and streamline workflow processes, enabling business transformation
Leverages ESRI's pre-eminent expertise in aggregating mapping and geospatial information quickly and at low cost
Extends the power of your ERP and Enterprise Information Modeling (EIM)
Management, Planning, Compliance and More
Business decisions increasingly depend on incorporating geospatial information and other data that impact facilities due to such considerations as proximity to transportation, utility infrastructure location, zoning restrictions, environmental and safety compliance, and proximity to potential markets.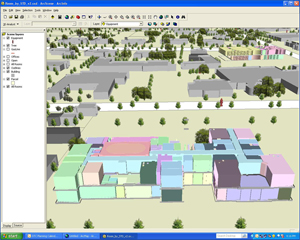 Use thematic "heat" maps within an integrated, three-dimensional operational picture to visualize your vacancies, lease expirations, department occupancy, expenses, and more
ARCHIBUS Geospatial Extensions for ESRI provides the analytical views you need to better manage a wide range of functions, including:
Real Estate / Portfolio Management
Lease & property administration
Occupancy planning / vacancy analysis
Performance measurement, KPIs, benchmarking analysis
Global Asset Management
Strategic Planning
Facilities master planning and site infrastructure planning
Site and proximity analysis
Employee/customer/competitor location mapping
Move management & analysis
Regulatory Compliance / Management
Risk assessment & business continuity planning
Emergency preparedness & response analysis
Environmental compliance, EHS
Governmental Regulations, such as E911, EO13327, BRAC
Site Security
Operational Management
Work order management
Utilities, cable, plant & network management
Asset tracking & management
Location & route finding